why choose bushtreksafaris for your Safari?
We are a family run travel company that specializes in East African Safaris. 
Hi, I am Surinder (yes that's me up there jumping away, having lots of fun with Maasai warriors, in the Maasai Mara game reserve). Operations Director based exclusively in East-Africa.
I personally oversee ALL bookings.
Our team is built around our family of four, each with a unique and individual set of skills that makes every Bushtrek Safari fresh & exciting.
We offer the best Safaris in this region of Africa.
We build memories...
Baljit (Gogi), a bushtreksafaris pioneer in every way. 65 years of travelling the region. In the mid-60's spent most of his free time camping & fly fishing the downstream tributaries that feed into the mara river.
animal encounters include: charging rhinos, bull elephants, cobras & the scariest - raging lone buffalo who tried spraying urine on me to get me to come down a tree. My lodge of choice, Lake Nakuru - Sarova Lion Hill - I love sitting on the cabin veranda, watching African fish eagles, black rhinos & sometimes lions at the perimeter too. You can certainly hear the lions at night. Another small quirk about this lodge, the top row of cabins have the most ingenious mosquito net railings, made of solid hardwood. Full coverage from moths and mosquitos in the dry seasons, the best night's sleep in any lodge. The only mosquito net that I do not trip on, on my way to the loo any night.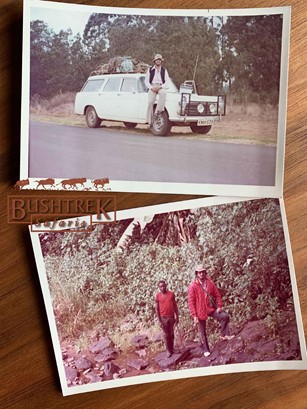 1968 - Gogi, Fly fishing the river Mara 
Priya, a founder & our legal mind. 'I love driving a landcruiser, all on my very own, in any of East-Africa's magnificent game parks..preferably Samburu, I just love the air in that ecosystem, just something about it that is hard to explain, this is my safari-happy-place, I cannot think of a better way to relax' . 
Animal encounters: as kids, watching my brother walk under a water-buck thinking it was a garden walkway while in lodge in Laikipia, and watching him freak out after the event. Who would think he would end up living for such encounters! go figure. 
Lodge of choice, Samburu Saruni - a lodge surrounded by animals i adore. Giraffes, elephants & leopards, sometimes at the lodge itself!. Saruni Samburu is a lodge built in amongst the rocky cliff-face overlooking the bush-land below, simply stunning. Furthermore, trekking Rhinos can be arranged with Saruni Rhino is nearby sera conservancy. Saruni mara offers the best herbal spa, all in a purpose built thatched roof hut in the wild. This spa may only facilitate two people at a time, but this exclusivity is second to none & the experience is simply mind blowing.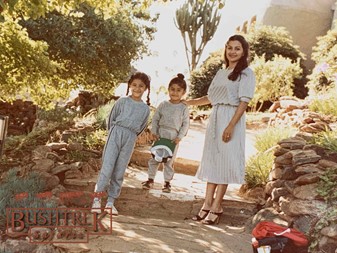 1987 - Early days in the Maasai-mara, Mara Serena Lodge, Priya, Prit & Surinder
Pritpal, our all-time favourite tech guru & cameraman (yes, we had to say this, since he holds the Keys to our IT infrastructure and web. haha. we love your Prit). If he is not fishing on rivers in Mt. Kenya, mountain biking in Wales and down Mt Kilimanjaro, photographing & gathering all our very own content, he can be found re-editing amazing content, re-wiring & reinstalling all our hardware, keeping us up-do-date and abreast of anything happening in the world. The lad does not know how to sit still, constantly wants us to be and do better. Prit, chil, have a beer!
Too many animal encounters to write about here. Prit runs our instagram feed, follow us & find all his amazing location-scouting & animal sightings. 
what makes him unique: not only is he a visual scientist, but also a safari guide & photographer.
ALL the content Prit gathers, is from on-board a customised 4X4 vehicle, adamant that he will not invade the space of the animals on foot & the ground that they call their own, anymore that it is absolutely necessary to enjoy a game drive. This is his ethos, boy does he deliver, everytime! 
Pritpal personally oversees all logistics & customises-configures each vehicle seating to suit the traveller/photographer. He guarantees amazing animal sightings.
Find him at Ngorongoro Serena lodge, loves leopards & caracals ascending the crater rim, forest lions of the Ngorongoro conservation area & is convinced he will find a black leopard (one day, last seen in 1980, before he was born.lol). 
'the Norongoro serena lodge, is just beautifully constructed, its rock & boulder wall exterior, all over, its frequented by my favourite big cats.. servals, leopards, caracals.. at times you can hear their paws on the cabin slate roofs while lying on your bed with.. just superb.. oh and it gets very cold on the crater rim.. reminds me of my autumn in Wales ' . I love the multiple stand-alone fireplaces dotted around the bar, cold beer and crackling logs or hot cocoa after dinner, just spine-tingling.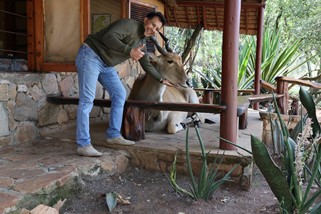 2016 - Maasai-mara, Pritpal at Saruni mara meeting the resident Eland, Natsujaki. 11 years ago, with the approval of KWS - Kenya Wildlife Service -a baby orphaned & injured Eland was taken in by Saruni mara lodge. 'what a spine tingling safari experience meeting a local member of the Saruni ecosystem'   Pritpal - Safari guide
Me, Surinder. They say the mother is the glue that holds it all together. We have lived ALL our lives in Africa & as a mother & professional it has been exciting and challenging in equal measure.
I bring to bushtrek a vast portfolio of experience, having worked in the banking sector as a young mother & then through a host of different positions in the airline industry which saw me work with air cargo, Virgin & Emirates holidays. Cement this with 40 years that my partner has spent as a regional General manager for Lonrho EA. , with over 500 employees and a dozen branches, provides bushtrek safaris with a foundation of an abundance of experience. 
'the most pleasurable experience is being on safari, no matter which lodge or camp it may be, looking at my family relaxing and just having crazy fun, knowing that I made that possible. This is why I plan safaris'
Surinder, Founder. 
1975 - Maasai-mara, Keekorok lodge - Surinder & Gogi - one of many dates in the Maasai-mara
Kenya. We are from here, we live here, we work here. Bringing you authentic safari experiences from this East-Africa, our home 
We operate with a cultural sensitivity gained from more than 60 years of having lived & worked in small villages, interacting with individual tribes and appreciating their cultural nuances. As a result, the products and services Bushtrek Safaris offers are designed to conserve the integrity of the environment and preserve the heritage of the communities. 
Over the past decade we have worked for professional bodies, Government Agencies, Hospitals, Schools, and NGOs as well as travel management for executives & professionals. 
our services
our customers' feedback has been invaluable. using this experience we have developed a series of innovative, experiential and engaging processes which have led us to evolving classic Safari itineraries while always maintaining a true authentic safari feeling
Our commitment is to:
1.     Provide personalized services to the Private & Corporate sector
2.     Never compromise on service
3.     Build trust by exceeding our clients' expectations
4.     Contribute to local communities. Charity - infrastructure & education 
5.     Preserve the environmental and cultural heritage of the region
We welcome you to beautiful Africa
 Karibuni Africa . . .